Thank you for your interest in writing Stone Soup Homeschool Network. SSHN endeavors to include a wide scope of information with fresh content, addressing and exploring all facets of home-based education. We are interested in articles and stories that educate, inspire, and encourage readers. Areas of interest include articles about family life and homeschooling: Academic pursuits, encouragement for moms, creative homemaking, improving organization, raising children, time management, involving dads and drawing on God's strength. We also welcome conference information and reviews, state and national homeschooling trends and political affairs. (Those political issues which pertain to homeschooling exclusively.) Neither articles that are critical of any particular group or faith, nor those that possess a theme that is contrary to traditional Judeo-Christian values will be accepted.

Please submit articles using our "Article Submission Form." (You will be directed to this form after clicking "I accept these terms and conditions" on the "Terms and Conditions" page.) Articles must be approximately 700—1,100 words in length, and should include a title and reference details or bibliography, if appropriate. Please note the name you would like your article to be published under. If you wish to have your article published under a nickname, pseudonym or first name only, please indicate that on the Article Submission Form.

SSHN does not offer payment for articles submitted. Submissions are done on a volunteer basis only. All articles are subject to editing before publication.

While you retain all rights to your work, submission of articles to Stone Soup Homeschool Network indicates permission to use your article for any SSHN publication. All submissions are subject to the Terms of Submission posted on our website.

SSHN will acknowledge receipt article and attempt to make a decision to accept or decline the proposed article as quickly as possible. The review process normally takes less than one week, but may be longer at times. If your article is accepted, you will receive an email with further instructions on submitting clipart or graphic elements. Publication of accepted articles may be immediate, or may take several weeks, based on our needs and publication schedule. Terms of publication vary, based on article length and content.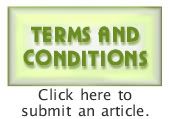 At SSHN, we slate authors' work for future blogs as far in advance as possible. Therefore, if you are interested in submitting a query, please do so as soon as possible, so that your article may be reviewed and considered prior to upcoming blog posts.